Home Business Academy | Good Business Model?
Todays article is about Home Business Academy and is Home Business Academy a good business model?
Introduction
Who Is The Home Business Academy?
Mike Hobbs and Paul Hutchings founded the Home Business Academy. This program teaches you how to start and grow an online business.
The Home Business Academy's mission is "Freedom Through Principle-Centered Leadership."
The main part of HBA is their Funnel Builder Academy, Premium Academy, and Financial Literacy Academy. FAQ and Affiliate Zone.
HBA is all about Don-For-You Funnels and Email Swipes as well as step-by-step training.
It's a good thing about HBA is that it isn't full of hype. Instead, they give step-by-step guides based on tried-and-true proven processes.
But let's suppose that you REALLY want to work that laptop-entrepreneur lifestyle.  Is HBA a good lap-top entrepreneur business model?
It's a great lap-top business as you will soon discover.
Every day and every month, Paul and Mike, together with other top community leaders, host coaching masterminds where you may get the most up-to-date training and personalized coaching you need.
HBA feature a funnel builder (tool) that is easy to use and configure.
This Home Business Academy stands out far above any other affiliate program and any other way to make money online, with your website, and/or with your personal business.
Why and/or your personal business?
You can promote Home Business Academy as a member and receive an 80% commission on their products. Or, you can promote your own products using the training, support and the Funnel Builder Academy.
Home Business Academy Premium
The HBA Premium Academy provides some essential training and resources that can help entrepreneurs who are building ANY business to hit their goals much faster.
The HBA Premium Academy is always evolving and growing, with new trainings being added regularly from top leaders who generously share the marketing strategies that are working for them right now, in real time.
The HBA Premium is a complete training course where you will learn:
How to generate traffic and leads online using various traffic sources such as Facebook, Youtube, blogging, and Search Engine Optimization (SEO) where you will be learning how to create your own website, write SEO-friendly content, create and rank Youtube videos,
How to design high-converting funnels and landing pages,
How to attract your customers and convert them into buyers through email marketing
On top of the core training course, you get access to a weekly coaching mastermind with the HBA founders, Paul Hutchings & Mike Hobbs as well as community support from the top leaders.
The cost to join the HBA premium is $125 per month.
The Freedom Launchpad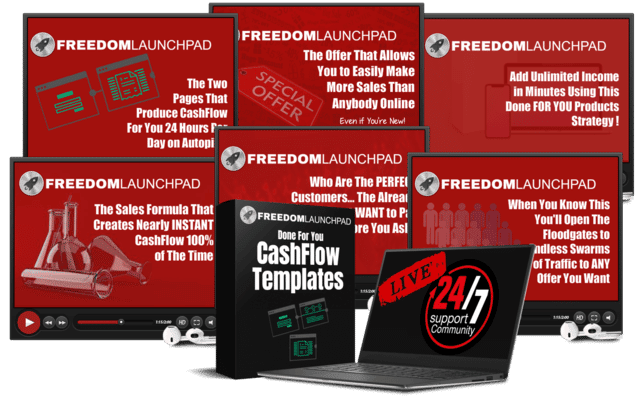 The Freedom Launch is just a simple video walkthrough on how to make money with affiliate marketing created by Nick Bramble.
In case you don't know it, the Freedom Launchpad was a part of the 30-Minute Workday Escape Plan.
The 30 Minute Workday Escape Plan designed by Nick Bramble is downloaded file ebooks you can download for free.
Nick's 183 page Escape Plan goes set-by-step describing how to use the various parts of finding and moving potential customers through, leads, welcome sales, and purchase.
The Financial Literacy Academy
This is finance and debt training that covers the following:
Tax strategies for US Business owners,
Retirement planning and strategies,
Records and bookkeeping with Quickbooks online,
How to build long-term cash flow with rental properties,
Stress-free property management,
Business entity setup and maintenance, and more.
The cost of this program is a $1000 one-time fee.  However if you purchase the Financial Literacy Academy upon joining, the cost is $500 dollars.
Owning the program and promoting it, you receive a $400 dollar commission.
Finally
Is Home Business Academy a good business model?  NO!
The Home Business Academy a great business model designed by two top 7 figure earners and marketing masters.
The low cost to become a member is outstanding when compared to other programs.
As an example there is a well known program that cost $2,995 to become a member and only pays 30% commission.
With Home Business Academy you are in profit with only 2 sales…amazing.
A number 1 reason why I like the Home Business Academy is that it's NOT a Network Marketing Company.
It's strictly an affiliate program that pays 80% commissions per sale and you make that 80% from that one person you referred for every month they are in the program!
Final thought…today, making money from the comfort of your home without quitting your job is possible. And Affiliate marketing is one of the ways many entrepreneurs make money online by working from home.
The HBA owners, Paul Hutchings & Mike Hobbs did a great job by designing this business model to power people with the required skills to be successful in the online business.
Here's to your success, and take a serious look at The Home Business Academy and the Funnel Builder Academy.